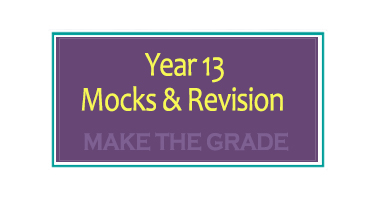 Mocks start in the second week of January (full timetable below).
Students have a copy of this and a revision guide. I am sure parents/carers will be joining us in emphasising the importance of having a revision timetable and starting early, to allow plenty of time to rest and relax, as well as revise during the Christmas holidays.
We would like to reassure students that their performance in their mocks will be used to inform, but not determine, any centre assessed grade that we may required to give, should the need occur next year.
Year 13 Mock Timetable - Auditorium
Monday 11th- Friday 15th January
Date

Morning

Afternoon

Monday 11th January

Fine Art – 5 hours

Tuesday

12th January

13C Biology - 2 hours
Chemistry – 1 hour 40 minutes
Economics 1 hour 40 minutes
French – 2 hours
13C Geography – 1 hour 40 minutes
PE – 2 hours

Wednesday

13th January

13A English Lit - 1 hour 15 minutes
13A History – 1 hour 30 minutes
13A Law – 1 hour 30 minutes
Mathematics (Pure and Statistics) – 2 hours
13A Psychology – 1 hour 30 minutes
Religious Studies – 1 hour
Sociology – 2 hours

Thursday

14th January

13D Biology - 2 hours
Computing - 2 hours
13D English Literature - 1 hour 15 minutes
13D History – 1 hour 30 minutes
13D Law – 1 hour 30 minutes

Further Mathematics
(2 students) – 1 hour
Done during Period 4

Friday

15th January

Business Studies – 2 hours
13B English Lit - 1 hour 15 minutes
13B Geography - 1 hour 40 minutes
Media Studies – 2 hours (MC2)
Physics – 2 hours
13B Psychology – 1 hour 30 minutes
Monday 18th – Friday 22nd January
Date

Morning

Afternoon

Monday

18th January

Fine Art – 5 hours
13C Biology – 2 hours (one candidate)
French – 2 hours (one candidate)
Geography – 1 hour 40 minutes (two candidates)

Further Mathematics – 1 hour

(2 students)

Done during Period 5/6

Tuesday

19th January

13C Biology - 2 hours
Chemistry – 1 hour 40 minutes
Economics 1 hour 40 minutes
French – 2 hours
13C Geography - 1 hour 40 minutes
PE – 2 hours

Wednesday

20th January

13A English Lit – 2 hour 15 minutes
13A History – 1 hour 30 minutes
13A Law – 1 hour 30 minutes
Mathematics (Pure and Mechanics) – 1 hour 30 minutes
13A Psychology - 1 hour 15 minutes
Religious Studies – 1 hour
Sociology – 2 hours

Thursday

21st January

13D Biology - 2 hours
Computing - 2 hours
13D English Literature - 2 hours 15 minutes
13D History – 1 hour 30 minutes
13D Law – 1 hour 30 minutes

Friday

22nd January

Business Studies – 2 hours
13B English Lit - 2 hours 15 minutes
13B Geography - 1 hour 40 minutes
Media Studies - 1 hour 20 minutes
Physics – 2 hours
13B Psychology - 1 hour 15 minutes
Y13 mocks and revision